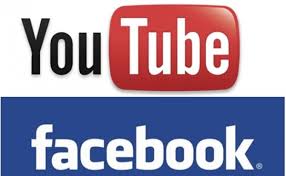 There is a lot of noise lately regarding video. And the cacophony will continue to get louder as Facebook and others take every increasing bites out of YouTube's golden apple.
The battle is heating up, as marketing videos become an even more mainstream component of business marketing. It's not ISIS versus Western culture, however it is a business war that is being waged as part of the changing world of Video Marketing. (Check the new Video Marketing 2.0 podcast)
What is this stealth war that we're talking about here? It's a war of two behemoths of the Internet. Facebook vs. Google. According to Nick Cicero of MarketingLand writes – it's a bout of epic proportions. It's the war for your online attention. It's a battle for advertising dollars.
Make no mistake about it; Facebook is waging battle with YouTube. They aim to be the biggest source for online video views. And they are getting there quickly.
Facebook recently announced that it had served up around 4 Billion video views a day in April 2015!
According to a recent article in Fortune, that's up from 3 Billion in January and just 1 Billion in September 2014.
With close to 1.4 Billion active Facebook users that translates to over 2 video views per day per Facebook active user per day!!!
That's a lot of content. That's a lot of data to be mined. That's a lot of potential for businesses to tell their stories, promote their products and sell their services through video.
These video battles are being fought on different planes at this point because of the different nature of the two Internet platforms. YouTube's platform has been quite static for some time. It is a platform that basically does 'show and tell'. All the sharing is done through external links. On the other hand, Facebook's platform is completely built around engagement and sharing.
The measurements of success are different as well. The most often cited metric is the number of views, but the core KPI's are different. YouTube's big pull is the SEO component. It is heads and shoulders above other video sites with an estimated 8 out of 10 videos on Google Web search coming from YouTube and the remainder from Vimeo, Dailymotion and others. But that number is deceiving because videos directly uploaded to Facebook don't appear in Google search because Google can't crawl and index them.
Facebook appears to be less interested in SEO as the big drawing point for advertisers. Rather they are interested in make money from ads and not just data mining. And they understand that the more they can provide real big data analytics based on video viewership patterns, the more they can grow revenue.
This big data personalization allows Facebook to show people the most relevant videos. That's manna to advertisers.
Which is why the launch of the new Videos tab in the page insights can be the game changer for Facebook. This tab will allow publishers to better track the performance of videos across data ranges.
With the News Feed feature, Facebook has free reign to place whatever videos it wants in this feed. The more it knows what you care about the more they can feed you what you will inevitably watch. That's the essence of Facebook business model.
It appears that Facebook gets the world of Video Marketing 2.0. They understand that businesses need and want to make money using video to support their brands. And they want to do it with quality, analytics and a platform that is integrated and easy to use.
So what about YouTube? Are they just going to roll over dead and let Big Bad Facebook eat their lunch? Highly unlikely – rather, we will probably see some significant changes in the months to come.